Your Instagram bio is your digital introduction to the world in the age of social media. Every visitor to your profile is greeted by a picture of your personality, hobbies, and purpose. Your Instagram bio ideas has the capacity to capture, connect, and compel people to follow your journey in just a few words, emojis, or a well-placed quote.
Creating the perfect Instagram bio is an art form, and it's an important part of establishing your online profile. In this blog post, we'll go into the world of Instagram BIO ideas and look at the top styles that can help you stand out, make a statement, and leave an indelible impression in the huge and colorful world of Instagram.  Whether you're an influencer, a company, or a regular person. These innovative and captivating bio styles can inspire you to change your Instagram profile into a digital masterpiece if you are an individual looking to express yourself. Let's go on this road of self-expression and creativity together, one bio style at a time.
"Instagram Bio Ideas" refers to unique and appealing suggestions or concepts for what you might include in your Instagram bio. Your Instagram bio is a short part on your profile where you may provide a concise overview of your personality, interests, or brand identification. Instagram bio ideas provide ideas and inspiration for making your bio more engaging, memorable, and indicative of your online presence. Among other creative techniques, these suggestions can include using emoticons, sharing quotes, using hashtags, telling a story, or expressing your passions. Finally, Instagram bio ideas are intended to assist you in making a good first impression and attracting more followers and engagement on the network.
The Importance of a Well-Crafted Instagram Bio
Your Instagram bio serves as a virtual business card, introducing yourself or your brand to potential followers. It's your chance to make a memorable impression and entice people to hit that "follow" button. A well-crafted bio not only showcases your personality or brand identity but also provides essential information that can help users decide if they want to engage with your content.
To create a standout bio, it's crucial to consider your target audience and what sets you apart from the competition. Think of it as a mini sales pitch that captures the essence of what you or your brand is all about. By crafting a compelling bio, you can increase your chances of attracting the right followers and building a loyal community.
Key Elements of an Effective IG Bio
Before we dive into the creative Instagram  bio ideas, let's explore the key elements that make up an effective Instagram bio. These elements should be strategically incorporated to make your bio informative and engaging:
Profile Picture:

Choose a visually appealing and recognizable profile picture that represents your personal brand or business. It's recommended to use a high-quality image that clearly conveys your identity.

Username and Name:

Your username and name should be straightforward and easy to remember. If you have a personal brand, consider using your real name or a variation of it. For businesses, it's advisable to include the brand name and a brief description.

Bio Text:

This is where you can showcase your personality or brand voice. Craft your Instagram bio with brevity, allure, and relevance to your intended audience. Employ emojis and line breaks for a visually pleasing and reader-friendly profile

Website Link:

Use the website link to direct users to your website, blog, or any other relevant landing page. You can also use link shortening services to track click-through rates and engagement.

Call-to-Action:

Including a call-to-action (CTA) in your bio can encourage users to take a specific action, such as visiting your website, subscribing to your newsletter, or checking out your latest product. Make sure the CTA aligns with your overall goals.
By optimizing these key elements, you can create an Instagram bio that captivates your audience and compels them to engage with your content.
Creative Bio Suggestion for Personal Accounts
Personal Instagram accounts are an excellent platform to showcase your individuality and connect with like-minded people. Here are some creative bio ideas for personal accounts:
Globetrotter

: Wanderlust-Infused Soul✈️🌏 | Exploring the Globe, One Adventure at a Time| Chasing Dreams and Sunsets Around the World 🌄|Making the World My Playground | Join Me on My Adventures! 🌐
Fitness Enthusiast:

💪 Fitness Junkie | Sweating it Out Daily to Reach New Goals| Health and Wellness Advocate | Promoting a Fit Lifestyle 🥦🏋️‍♂️
Fashion Lover

: Fashion Obsessed | Documenting My Closet Chronicles 📸👛|Trends and Classics | Embracing the Best of Both Worlds in Fashion 🌟
Foodie:

Culinary Explorer | Tasting My Way Around the Globe, One Dish at a Time 🌮🌍|Food Lover | On a Quest to Find the Perfect Bite in Every City 🍔🌆| Food Is Love | Uniting Hearts and Tastebuds, One Meal at a Time ❤️🍕
Bookworm:

Constantly Lost in Books 📚 | Escaping Reality Page by Page|Living a Thousand Lives Through Literature | My Bookshelf Speaks Volumes 📕📗
Remember, these are just starting points. Feel free to customize these bio ideas to reflect your unique personality and interests.
Ideas for Instagram Bios Tailored to Business Profiles
For businesses, Instagram offers a powerful platform to showcase products or services and engage with potential customers. Here are a few ideas customized for business profiles: 
E-commerce Store:

Your New Favorite Online Boutique | Curated Collections for You 🌟 | Where Quality Meets Style | Shop the Latest Trends from [Your Store] 👠👗 |Your One-Stop Shop for [Your Niche] | Elevate Your Style 🛍️
Service Provider:

Personalized [Your Service] Solutions | Making Your Dreams Come True ✨ | [Your Service] at Its Best | Helping You Achieve Your Goals 🌟 | Expert [Your Service] | Transforming Visions into Reality 📈💼
Local Business: 

Your Trusted Destination for [Your Products/Services] | Supporting Local 🏪🌆 |Making Memories in [Your Location] | Come Experience [Your Business] Today 🛒🎉
Creative Agency

:Transforming Ideas into Masterpieces | Your Creative Partner in Crime 💡🌟 |We Speak Creativity Fluently | Where Imagination Meets Strategy 🌠📊 |Get in touch with us for your upcoming project!
Health and Wellness:

Nourishing Mind, Body & Soul | Your Holistic Health Guide 🌱🧘‍♀️| Finding Balance in a Hectic World | Health and Happiness Starts Here 🍏🌸 |Mindfulness and Wellness for All | Embrace a Better You with [Your Brand] 💆‍♂️💖
These bio ideas provide a glimpse into the nature of your business and entice potential customers to explore further.
Bio Ideas for Influencers
Influencers play a significant role in shaping trends and influencing their followers' choices. Here are a few  bio ideas customized for Influencers:
Lifestyle Influencer:

Capturing Everyday Magic | Exploring Fashion, Home, and Beyond 📷🏡 | Finding Beauty in the Simplest Things ✨❤️
Beauty Influencer:

Beauty Junkie | Unveiling the Secrets to Glamour and Confidence  | Explore makeup tutorials, in-depth reviews, and valuable tips for your beauty journey. 💄💫 | Join me for a glam session together!
Fitness Influencer:

Fitness Journey | Turning Sweat into Strength, One Rep at a Time 💦💪 | Healthy Habits, Happy Life | Inspiring Wellness and Fitness Enthusiasts 🌱🤸‍♀️ | Join forces with me to conquer those fitness goals together! 
Travel Influencer:

Roaming the Globe, One Adventure at a Time | Capturing Memories Worldwide  |Travel Addict | Sharing Stories from Around the World| Passport Ready | Join Me on Epic Journeys and Cultural Discoveries 🌐🌍
Food Influencer:

A culinary enthusiast with a passion for food. 🍽️🍴|Feeding the Soul | Where Every Meal Tells a Story 🍜|Join me for a delightful culinary adventure! 🍽️🌟
These bio ideas showcase your niche and establish your authority as an influencer in your respective field.
Instagram Bio Inspiration for Artistic Minds and Content Creators
Artists and creators can leverage Instagram to showcase their work and connect with potential clients or collaborators. Here are some Instagram bio suggestion tailored for artists and creators:
Visual Artist:

Creating Worlds with Color and Imagination | Exploring Artistic Dimensions 🎨 |Capturing Emotions Through Art | A Palette of Expressions on Display 🌟 | Painter of Dreams | A Canvas Filled with Stories, Hues, and Dreams.
Photographer:

Freezing Moments in Time | Capturing Life's Most Beautiful Instants | Photography is My Language | Translating Emotions into Images | Embark on a visual adventure with me! 🌟📷
Content Creator:

Crafting Stories and Moments | Sharing My Creative World with You | Building Bridges with Words and Visuals | Join My Storytelling Journey 🌉 | Content Magic Maker | Transforming Ideas into Captivating Experiences 🎩✨
Graphic Designer:

Graphic Wizard | Transforming Ideas into Striking Visuals 🪄🌟 | Designing Dreams | Making the World More Beautiful, One Design at a Time 
Musician:

Creating Harmony in a Noisy World | Let the Music Speak 🎵✨ |Melodies in Motion | Tune in to My Musical Journey 🎼🌟| Music Heals | Let's Share the Magic of Sound and Rhythm 🌈🎵
These bio ideas allow potential clients or collaborators to understand your artistic style and consider working with you.
Suggestion for Travel Enthusiasts
Travel enthusiasts can use Instagram to document their adventures and inspire others to explore the world. Here are some Instagram bio motive tailored for travel enthusiasts:
Adventure Seeker:

Chasing Thrills Around the World | Mountains, Jungles, and Beyond 🏞️ | Nature's Playground is My Paradise | Seeking Adventures Off the Beaten Path 🌿| Embracing the Unknown | Adventure Awaits Beyond Comfort Zones 🌌✨
Nature Lover:

Nature's Admirer | Finding Beauty in Every Leaf, Petal, and Sunset 🌻🌿 | Exploring the World's Natural Marvels | A Love Letter to Mother Nature 🏞️💌 | Wanderer Among the Wild | Where Every Step is a Nature's Blessing 🌳🦋
Cultural Explorer:

Lost in the Tapestry of Cultures | Discovering Humanity's Rich Heritage 🌐🌟  | Join me in honouring the splendour of our world!
Solo Traveler:

Exploring the World, One Solo Adventure at a Time | Embracing Independence 🌏🚶‍♀️ |Self-Discovery Through Solo Travel | Where Every Destination is a Chapter 📖🌟 | Finding Strength in Solo Expeditions | Sharing My Solo Travel Chronicles 🌄
Luxury Traveler:

A Connoisseur of Lavish Getaways | Where Every Journey is a Grand Affair 🌆 |Luxe Travel Diaries | Elevating Travel to an Art Form 📸🍾 |Join me for a paradise getaway together!
These bio ideas reflect your passion for travel and invite others to join you on thrilling journeys.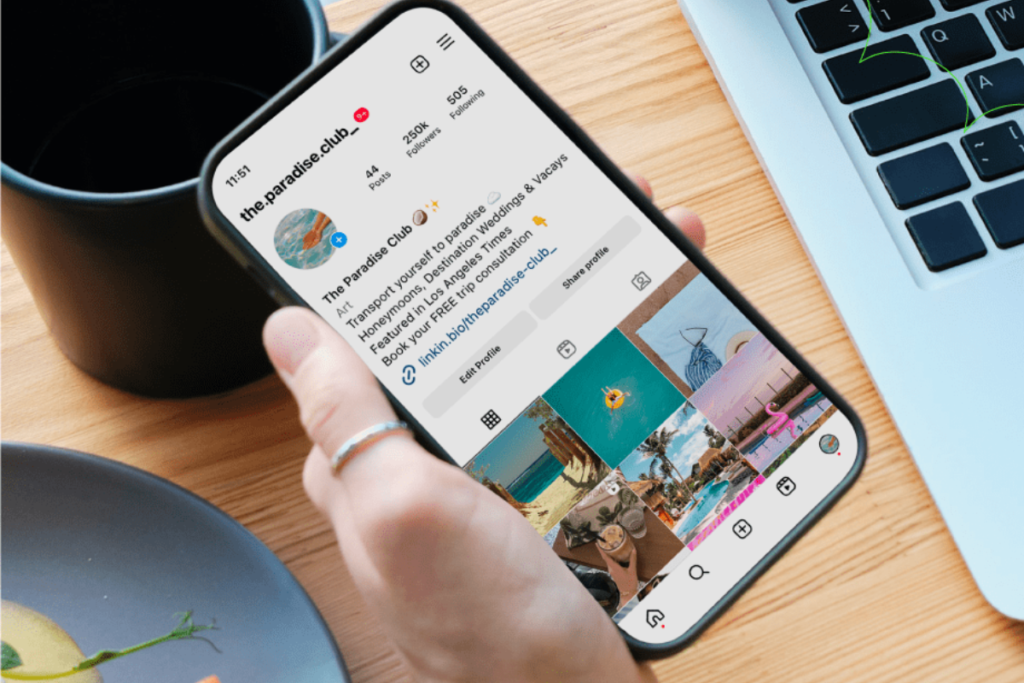 Bio Ideas for Fitness and Wellness Accounts
Fitness and wellness accounts on Instagram have a unique opportunity to inspire and motivate their followers to lead a healthy lifestyle. 
Fitness Motivator:

Turning Workouts into Lifestyle

 | Fitness Fuel | Energizing Your Journey to a Healthier, Stronger You 🚀💪Let's Conquer Challenges Together 🌟🔥
Yoga Enthusiast:

| Finding Serenity on the Mat | Nurturing Mind, Body, and Soul 🧘‍♀️🌅Breathe, Stretch, Namaste | Welcoming You to the World of Yoga 🙌🌟
Nutrition Expert:

Nourishing Your Well-being | Simplifying the Science of Nutrition |Food is Medicine | Crafting Healthier Lives One Bite at a Time 🍏💊
Wellness Coach:

Wellness Advocate | Finding Harmony in Mind, Body, and Spirit 🌈✨ | Wellness Journey | Where Every Step Leads to a Brighter, Healthier You 🌟🚶‍♀️

Igniting a Wellness Revolution | Join the Quest for a Vibrant Life 🚀🌿
Mental Health Advocate:

Mental Wellness Warrior | Inspiring Hope and Healing | Together, Stronger 🌟🌈Mind Matters | Your Safe Space for Mental Health Conversations 🧠🌱 | Together, we are stronger!"
These bio ideas demonstrate your commitment to helping others achieve their fitness and wellness goals.
Instagram Bio Suggestions for Food and Culinary Profiles
Food and cooking accounts on Instagram have the power to tantalize taste buds and inspire culinary creativity.
Below, you'll find a collection of bio ideas designed especially for food and culinary enthusiasts:
Home Chef:

Cooking Up Love in My Kitchen | Culinary Adventures from Home | Home-Cooked Happiness | Sharing My Passion for Tasty Creations 🍲🌟From My Kitchen to Your Heart | Let's Savor the Joy of Homemade Meals 🏡❤️
Food Blogger:

Exploring the Culinary World, One Recipe at a Time | Blogging Food Adventures 🍽️🌍 | Sharing Food Stories and Recipes | Join Me on a Delicious Journey 📖🍕 |Foodie Explorer | Where Every Bite is a New Blog Post.
Healthy Eater:

Mindful Eater | Savoring Flavorful Wellness | Join My Nutritional Journey 🌱🍽️Fueling Good Choices | Sharing Tips for a Balanced and Energized Life 🥑💪Your Guide to Nutritious Living | Let's Make Healthy Delicious 🌟🥦Embrace a nutritious lifestyle!"
Baking Enthusiast:

Sugar and Spice | Where Flour Becomes Magic | Let's Bake Together 🍪🌟 | Baking Artist | Crafting Edible Masterpieces and Sweet Delights 🎨🍰From Oven to Heart | Sharing the Love, One Baked Good at a Time ❤️🍞
Food Photographer:

Every Dish a Work of Art | Join My Visual Feast 🌟🍕 |Your Culinary Moments, My Visual Poetry | Let's Celebrate Food Through Photography
These bio ideas showcase your passion for food and invite others to join you on a culinary journey.
Tailoring Your Instagram Bio to Your Brand and Target Audience
Crafting an effective Instagram bio is essential for attracting more followers and boosting engagement. By incorporating the key elements of a well-crafted bio and utilizing creative bio ideas tailored to your account type, you can make a memorable first impression and connect with your target audience.
Remember to stay true to your brand or personal identity and always consider the interests and preferences of your target audience. Experiment with different bio ideas, test their effectiveness, and refine them based on the engagement and feedback you receive.
Unlock the full potential of your Instagram bio idea  and watch as your follower count and engagement soar! Start implementing these ideas today and take your Instagram presence to new heights.
Ready to elevate your Instagram bio? Begin incorporating these inventive ideas now and witness your follower count and interaction skyrocket! Share your preferred Instagram BIO ideas in the comments section below, and let's motivate one another!